Services offered by weaversbazaar
weaversbazaar offers a range of services to groups and individuals. Click on the links below to get summary details but do get in touch with us if you would like more information or if you would like to book an event.
Sponsorship
For the last 12 years, weaversbazaar has invited people and organisations to apply for an award from our annual sponsorship fund. The primary aims of our sponsorship schemes are to
engage a community in actively participating in weaving,

support the development of novice weavers, or

actively and practically bring weaving to a new group of people
Our sponsorships are modest but can include funds, equipment, materials, support and other resources.
For 2022 we are keen to support initiatives which either
Engage a community to actively participate in Tapestry Weaving
Support the development of novice Tapestry Weavers, or
Actively and practically open up Tapestry Weaving to a new group of people
Support the planet through re-use, recycling or repurposing of materials in Tapestry – this is a new category in recognition that creativity remains critically important to people's wellbeing but like all other areas of life we must all be aware of the resources we are using and use them as responsibly and effectively as possible – something we keep close at heart at weaversbazaar.
Over the years our sponsorship has enabled activities such as Guild workshops, the use of tapestry weaving as therapy for vulnerable individuals, community tapestry weaving projects, independent exhibitions and tapestry weaving activities as part of wider social events.
Reports of all Previous Sponsorships:
Pop Up Shops: Visiting, Postal or Fixed
We are very proud of our web site and get a great deal of positive feedback on the quality of its presentation, but nothing beats seeing and feeling yarn to get a full insight into its potential. So we are able to offer a Pop-Up Shop which brings all the products of weaversbazaar to your doorstep! There are three types of Pop-Up Shop:
Attended Pop-Up Shop: we will bring the weaversbazaar products to your venue. You or your organisation will receive 10% commission on sales
Postal Pop-Up Shop: we post the shop to you, with full instructions and guidance. You return the shop after your event and you or your organisation receives 10% commission on sales
Fixed Pop-Up Shop: for those of you with secure studios or workshops where you deliver regular courses, we can provide you with a Pop-Up Shop that stays with you - we re-stock on a monthly basis and you earn 10% commission on sales
All of these options have significant benefits to both organisers, groups and those being presented with the opportunity to explore weaversbazaar products up close and personal. The shop contents can be fully tailored to your requirements. Do get in touch for more information.
Talks
We love to share our enthusiasm for tapestry and textiles and there is so much to share! weaversbazaar has developed a number of talks on tapestry weaving and other textiles. These are illustrated with both images and actual pieces of work to handle. Contact us if you would like us to visit your group.
Tapestry Weaving Then & Now: a history of tapestry weaving and a look at the contemporary tapestry art scene. The speaker will not only have images of both historic and contemporary tapestry art to highlight her talk but will bring examples of actual tapestries she has woven.
Andean Textiles. This talk provides an overview of traditional Andean weaving techniques which have been practised over many centuries and the ways in which additional textile techniques were learned and incorporated into those traditions after Europeans arrived in South America. The talk is enhanced by examples from the speaker's collection of Andean textiles acquired over the course of many years travelling in South America.
Latin American Textiles and Dress Traditions. This talk looks at the wider Latin American context and the varied and beautiful traditions in textiles and items of traditional dress across the continent. Traditional dress in many areas of Latin America is often used to define the personal and group history and region of origin of the person wearing it. The talk is enhanced by examples of different regional techniques and traditions from the speaker's collection of Latin American textiles and items of dress acquired over the course of many years travelling in Latin America.
The combination of a Saturday talk followed by a Sunday Workshop can be a very successful weekend activity!
Workshops
Please note all workshops are on hold until 2022 except for our video workshops, more details of which are available here.
weaversbazaar are really enthusiastic about sharing skills and helping others develop the insights to undertake their own tapestry weaving. We deliver a range of learning tapestry weaving opportunities.
Workshops @ Blackbirds Studio
We deliver regular workshops on not only tapestry weaving skills but other textile related activities. Blackbirds Studio is next door to our distribution unit and can provide a creative working environment for up to six people. Full details of our schedule can be found on our Courses page.
Workshops that travel to you.
We can bring our workshops to any location. They provide a range of learning opportunities and are open to complete beginners as well as those with some knowledge. We can work with up to 10 students. Usually, of one or two days duration, all equipment and handouts are provided as well as access to our full range of dyed tapestry yarns to use during the event! The workshops can focus on different aspects of tapestry weaving:
An introduction to tapestry weaving
Design for tapestry weaving
Extending tapestry weaving techniques
Do get in touch if you are interested in any of these topics. The combination of a Saturday talk followed by a Sunday Workshop can be a very successful weekend activity! See what we are doing on our Events page.
Masterclasses
weaversbazaar run occasional Masterclasses which are always led by a renowned, professional tapestry artist. These deliver two or three-day sessions focusing on specific aspects of tapestry weaving. Aimed at experienced novices, intermediate or advanced weavers, these events are based in a dedicated tapestry studio in Angmering, Sussex. Lunches are included as well as full access to all our yarns. Go to the Courses page for details of what is currently on offer and the facility to book directly through our website.
Workshop Services
weaversbazaar is able to offer supplies to support workshops or tapestry weaving events being run by individuals or groups. These include:
Ready-cut lengths of worsted wool. These make running a workshop or weaving event so much easier. The yarn is held on poles for easy access. Those taking part take strands of whichever yarns they want. There is no limit on how much can be used, wastage is minimal and the range of colours is huge. There is a choice of Fine, Medium or Heavy yarns or any combination. Access to the yarns significantly enhances any workshop or weaving event. These are priced at a fixed cost per student per day.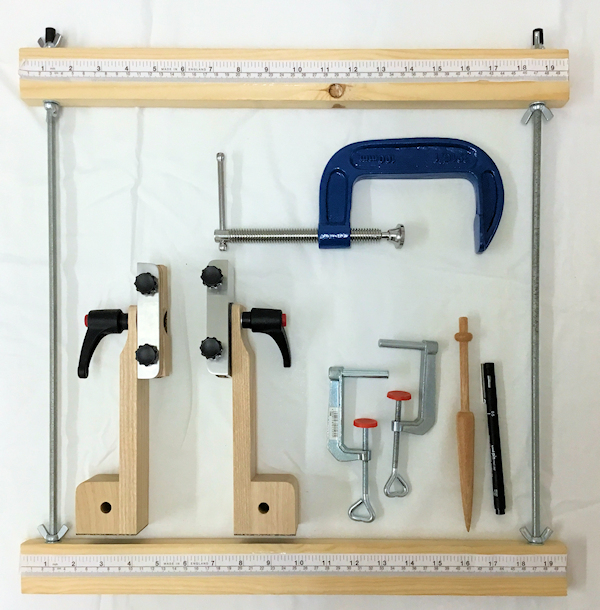 Tapestry weaving equipment for hire. weaversbazaar have up to 12 workshop stations available to hire for a tapestry weaving event. These include:
A sturdy frame
C-Clamp
Frame holders with clamps
Bobbin
Warp pen
These items are available as a complete set or individually.
Pop Up Postal Shop
Bring a tailored Pop Up Shop into your workshop providing your students with the opportunity to purchase yarns and equipment for their own use outside your event. Full details of the Pop Up Postal Shop can be found above
Contact us for more details of pricing and availability.
Custom-dyed Yarn
If you would like one of our yarn weights dyed to your own colour specification we can do this for you.The process is simple;
Send us a sample of the colour(s) you are interested in

The sample should be at least one-inch square but can be any material, for instance, paper, fabric, card, plastic, or a yarn wrap

The sample should have a uniform colour

Let us know how much yarn and in which weights you want the colour matched
We will match the colour and send you a small sample in each weight to ensure the colour is right.
When you confirm the colour is correct we send the full order.This process takes about 6-8 weeks.Prices are the same as for our dyed yarns. Minimum order 500g/7oz per colour.
Get in touch with us if you would like more information.