Blended Tapestry Weaving Kit (without frame)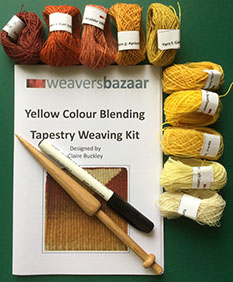 Code: BK2036 Price per kit: £34.00
Our Blended tapestry Weaving Kit contains the core elements needed to undertake a weaving exercise in blending wefts in order to get subtle shifts of colour in the finished tapestry weave. It contains:
An illustrated, full-colour instruction booklet
Approx. 20m of 10 different fine (18/2) yarns
A large wooden bobbin made by Artisan Bobbins
A warp marking pen
A weaving cartoon
Warp is not included as we do not know the frame size on which it will be woven.
The kit is available in five colours.
This kit is also available with a tapestry frame here.
For quantities of 5 Kits or more, please see our bulk discount details
Buy now
Make a choice in the boxes below:
Key:


available


low stock

on order