Frame Clamps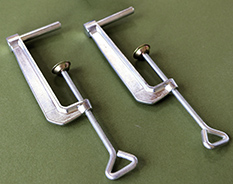 Code: 2008
Price per pair: £11.60
These metal frame clamps are ideal for holding our Tapestry Frame Holders firmly on a table top - but would work equally well with other types of tapestry frame holders.
They have a gap of 6.5cm and the barrel arm is 4.3cm long.
They come in pairs.
Buy now
Make a choice in the boxes below:
If applicable 'Select type' shows

=available;

=low;
=on order

Postage: UK mainland customers will see this added to orders at checkout. Details of postal costs and how non-UK orders are dealt with can be found here.

For special requests or card payment contact Matty on +44 (0)7590 479192 or use this tailored order form.
Check out our Knowledge Zone for the full technical specifications on both yarn and warps

Worsted wools are available on tubes (25g or 50g), in hanks (50g) or on cones (100g, 150g, 200g, 300g, 400g, 500g, 1kg) at a unit price.
| | |
| --- | --- |
| Undyed mixed fleece | Unit price 50g: £2.20 |
| Undyed single fleece | Unit price 50g: £3.00 |
| Dyed mixed fleece | Unit price 25g: £2.90 |