Raspberry Nettle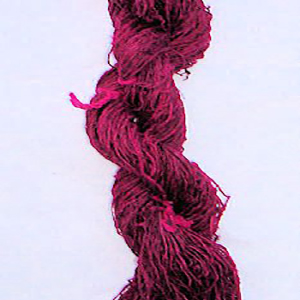 Code: N008
Price per hank: £8.85
A dyed, hand spun nettle yarn that will add texture and character to your textile creations.
This yarn is available in 50g/1.8oz hanks, length aproximately 114yds/ 104m per 50g/1.8oz.
Please note the dyed nettle yarns are not colourfast
Buy now
Make a choice in the boxes below:
If applicable 'Select type' shows

=available;

=low;
=on order

For special requests or card payment contact us on +44 (0)7801 607286 or use this tailored order form.
Check out our Knowledge Zone for the full technical specifications on both yarn and warps in imperial and metric measures.

Worsted wools are available on tubes (25g/0.9oz or 50g/1.8oz), in hanks (50g/1.8oz or 100g/3.5oz/3.5oz) or on cones (100g/3.5oz/3.5oz, 150g/5.3oz/1.8oz/5.3oz, 200g/7oz/7oz, 300g/10.5oz, 400g/14oz, 500g/17.6oz, 1kg/35.25oz) at a unit price.
| | |
| --- | --- |
| Undyed mixed fleece | Unit price 50g/1.8oz: £2.20 |
| Undyed single fleece | Unit price 50g/1.8oz: £3.00 |
| Dyed mixed fleece | Unit price 25g/0.9oz: £2.90 |