Goat Hair Yarn - Black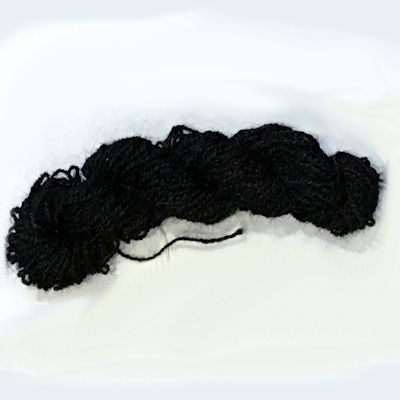 Code: G4001 Price per 50g/1.8oz: £6.90
This is an interesting yarn, spun from the hair of Turkish goat's and left in its natural colour. As it is handspun, like our Nettle yarn, it is a little variable in thickness, but it is full of character and would add texture to any woven surface.
It is available in 50g hanks each of which is approximately 20- 25 metres in length. It is about 4 wraps per cm/9 wraps per inch.
This Goat Hair Yarn can be used as either a warp or a weft.
"Your goat hair yarn is brilliant as warp yarn! Silks, cottolin, linen, viscose and plant fibres work beautifully as they slide sleekly and firmly into place. The yarn is akin to linen, strong with very little elastic memory. Wool weft is also good mixed with silk (I used 2 strands of your silk yarn with 2 strands of your fine wool)." SR, UK. (See image bottom right). Warp sett 3 epc/8 epi.
Buy now
Make a choice in the boxes below:
Key:


available


low stock

on order